How to swap Artist Trading Cards
Would you like to swap artist trading cards (ATCs) with other enthusiasts?
Although many people do swap artist trading cards at face-to-face trading sessions, most exchanges are carried out by mail with other members of internet swap groups. We take a look at some of the best artist trading card groups that we have found…
Here are some of which we have personal experience: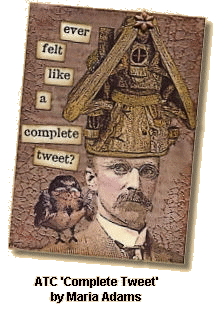 UKATC
As the name suggests, this is a group for those who wish to swap artist trading cards with others in the United Kingdom. It's an active group, with themed monthly swaps, and additional voluntary swaps that often explore new techniques.

Katy's Corner UK
Despite its name, this group welcomes members from all over the world. It's for rubber stamping enthusiasts who like to swap artist trading cards and other things that they've made, share ideas, hints and tips, and learn new techniques. The members are chatty and friendly, and their work is of a high standard. This is another active group, with regular monthly swaps and other activities.

MiniatureArtistTradingCards
This is another swap group with a fairly self-explanatory name for those who would like to discuss and trade miniature artist trading cards in the smaller 1½ x 2½ inch (38 x 64 mm) format.
You need to be a Yahoo! member to join any of these groups, but you will be prompted to sign up if you haven't already done so. For further details of each group, including swap commitments, please click on the appropriate link above.
We used to recommend UK Only ATC, Advanced Artist Trading Cards UK and Mixed Media ATC UK, but the Yahoo! groups for these seem to have disappeared, and we've been unable to find them elsewhere. However, we have found a group called Mixed Media ATC Swaps on Facebook. We don't know whether this group is related in any way, but we note that it was created for the purpose of swapping high quality mixed-media ATCs, and that you will have to submit examples of your work if you wish to join.
Now let's take a look at some of the ATC swap groups that our visitors have told us about:
Do you have a favourite ATC swap group that we haven't listed, but which you would like to recommend to other enthusiasts?
If you swap artist trading cards, and would like us to consider your favourite swap group for inclusion in our list, please tell us about it by clicking on the link below.
Nominate your favourite artist trading card group
We've told you what we and some of our other visitors think, but what about you? Which of the ATC swap groups that we've listed here gets your vote? Is there another group that you believe is better than all of these?
Which do you think is the best artist trading card group? Have your say…