Tim Holtz - the Lone Ranger?
To many people the name of Tim Holtz is almost synonymous with that of altered art today, but Holtz himself believes that many are also surprised to find a man involved in an activity more often seen as the preserve of the female sex.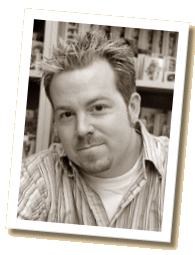 He says that whenever anyone asks him what he's doing in this business he replies that he is "loving every minute of it".
Like most people who have heard of Tim Holtz, you probably know that he is a designer and Senior Educator for Ranger Industries, a leading manufacturer of quality inks, embossing powders and other innovative craft products, and that he travels extensively to educate artists and promote Ranger products.
You will almost certainly be aware that he has produced two DVDs, An Altered Journey and The Journey Continues, and a number of books: Distressables, Distressables 2, A Compendium of Curiosities and A Compendium of Curiosities Volume II, to inspire those at all levels of experience to attempt altered art projects for themselves.
You may well have used some of his many 'Tim Holtz' signature products from several different manufacturers, a range which includes inks, embossing powders, embellishments, cutting dies and rubber stamps.
The Vagabond, Tim's innovative die-cutting machine from Sissix, was released in July 2010.
We wanted to discover the man behind the brand, so back in September 2007 we asked him a few questions:
How did you first discover altered art?
I don't know whether it was a matter of discovery for me, or more a style when I started out. I have always been inspired to create something out of nothing. I think that had to do with how I grew up; we had little money, so we always made things with what we had around.

To me, altered art doesn't always have to be grungy, just eclectic. I love the look of a heavily collaged book, or a mixed-media assemblage piece, but I also like the simplicity of a canvas with a few layers of photographs or a found object.
What attracted you to it in the first place?
What attracted me was being able to express my creativity with my own rules, in my own way. I love being able to incorporate just about anything in my projects, limited only by my imagination.
What do you still enjoy about it?
What's not to enjoy? The world around us changes every day, as do our surroundings, likes, dislikes, experiences… I think my art will always reflect that as well. Each day sparks a new idea or delivers a new challenge. The journey is the destination, they say.
You are a designer and Senior Educator for Ranger Industries. When and how did you first get involved with Ranger?
I started with Ranger about four years ago [in 2003]. Before that, I used to work for a local craft store in Arizona where I live. I became a buyer for that store, and had the opportunity to attend CHA (the Craft & Hobby Association trade show). It was there that I got to see all of the manufacturers and products this industry had to offer.

When I started rubber stamping I was drawn to the innovative products and colors that Ranger had. After several years of attending the show, and stopping by the Ranger booth to give them some samples, they asked if I would demonstrate for them at the following CHA in Anaheim, California, in 2003. I was so excited at the opportunity to demonstrate, never even thinking anything past that. Two weeks after the show, they offered me the position I currently hold as Senior Educator and Designer.
You travel throughout the USA and internationally, to educate artists and promote your products. What is the most interesting place you have visited on your travels, and why?
To be honest, I don't have a favorite place that I have visited, as I find every place, every experience, and everyone I meet along my journey both fascinating and inspiring. Wherever my travels may lead I hope to continue to be inspired. As I always say…
"Creativity is an endless journey where we should always take the scenic route…"
We carried out our interview in September 2007. We should like to thank Tim Holtz for his assistance in answering our questions, and for kindly allowing us to use material from his website at timholtz.com.