American Fleur de Lis
Carolyn Hamilton Proctor
(Seattle, Washington, United States of America)

This is one of my current favorite artist trading cards out of all those that I've made. I often find that coming up with a title for my artwork is harder than creating it in the first place, but I've decided to call this one American Fleur de Lis.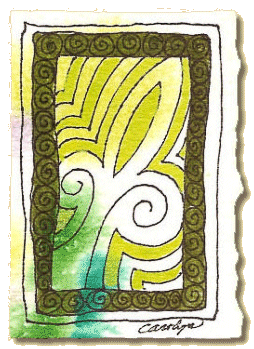 American Fleur de Lis
I'm a retired graphic designer and love the concept of artist trading cards. I work in ink, Tombow brush pens, pearlescent liquid acrylic, and both opaque and translucent water color. Many of the initial drawings are done while I'm watching television, so I don't feel that I'm completely wasting my time in front of the telly.
-----o-----
Carolyn Hamilton Proctor is an artist, author, journalist and self-styled 'adventuress'. She has been kind enough to mail us some further examples of her artist trading cards, a couple of which, A Fish Alone and Universal Enigma, you can see below.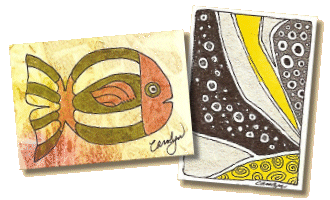 Thank you, Carolyn, for sharing your beautiful artist trading card with us, and also for allowing us to show some more examples of your work.
David Adams