My Favourite Artist Trading Card
If I were asked to choose my favourite artist trading card out of the many beautiful examples that Maria has produced, I think that it would have to be the delightful 'Adore'.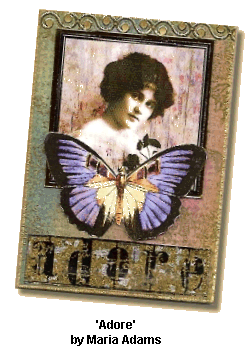 It wouldn't be an easy choice, but what I especially like about this particular card is that vintage look and feel that I love so much, with those faded colours accented with random stampings embossed with gold embossing powder, and edged in real gold with a Krylon® pen. Isn't that butterfly beautiful? This picture really doesn't do the card justice.
This card was an opportunity for Maria to try out a new technique, combining acetate stamped with StazOn® ink and mixed metallic flakes.
Do you have a favourite artist trading card?
If you're an ATC enthusiast you've probably made and swapped dozens of them, but is there one that you're particularly proud of, and would like to show off? Have you tried a great new technique that you'd love to share with your fellow enthusiasts? Well, here's your chance...
Would you like to share your favourite ATC?
Do you have a favourite artist trading card that you'd like to share with other enthusiasts?

Please tell us about your favourite ATC. For example, did you make it for a particular themed swap? Did you use any special techniques when you made it? What is it about this particular card that makes it your favourite?

Remember that the more you tell us the more interested other visitors will be in what you have to say.

Here's what other visitors have told us about their favourite cards…
What other visitors have said...
Here's what some of our other visitors have told us about their favourite artist trading cards...
Nine Inchies This is a set of nine inchies that I'm hoping to trade. They are my first ones and were a lot of fun to make. I really enjoyed doing them. I did a lot...
Vintage: Ormolu and Enamel These cards were made for the Ditzy-Craftymessers vintage-themed swap. I like these cards because of what I believe is a great effect from using a combination...
Peeled Paint Background I love the peeled paint background on Terrible Twos , which I made by using black and green paint with Vaseline. For me, the images work so well together,...
Drunk Cupcakes My art is usually whimsical, with a twist. This artist trading card is an example of something that could almost be too cutesy, but all the cupcakes...
Wiv' me dress tucked in me knickers This one was made quite early on in my making of artist trading cards , but is still a firm favourite of mine. It was done for a challenge to make...
Pray Without Ceasing I've done a lot of artist trading cards , so it was very hard for me to choose just one or two of my favorites. This one was made with a transfer...
Think Before Speaking This is an older artist trading card that I've always loved, because of the combination of the message with the perfect images. The mouths were...
American Fleur de Lis This is one of my current favorite artist trading cards out of all those that I've made. I often find that coming up with a title for my artwork is...