Nine Inchies
Kip Franks
(Sparks, Nevada, USA)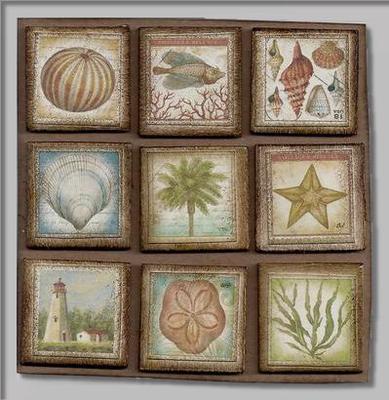 Nine Inchies by Kip Franks
This is a set of nine inchies that I'm hoping to trade. They are my first ones and were a lot of fun to make. I really enjoyed doing them.

I did a lot of thinking to come up with something. I bought a whole bunch of wood shapes, and the bag just happened to have some the right size and shape. I searched on the internet for a series of small pictures, and I found these images. I glued them onto the wood shapes, dyed the edges and then glued the shapes onto a square piece of cardboard.

I covered them with pouring medium to keep them from fading.

This was a fun project, and I did three more sets of nine. I will hang them in my house as a group if nobody wants to trade with me.
-----o-----
Thank you, Kip, for sharing your set of nine beautiful inchies with us. Of course, they're not artist trading cards, but we just couldn't resist including them anyway, especially as they're on the maritime theme that we love.

We first came across inchies back in 2007. They are tiny pieces of art, just one inch square, usually made from mount board, with a background, focal point and embellishments, much like artist trading cards. Also as with ATCs, some enthusiasts like to make them from fabric.

Although they can stand as works of art in their own right, they may also be incorporated into larger pieces of artwork, such as artist trading cards, mixed-media canvases etc.

It may be worth bearing in mind that there could be copyright issues if you use images that you've found on the internet, or in books and magazines, in your artwork. However, we'd guess that the owner of the copyright would be less likely to pursue the matter if the artwork were not sold, or sold only for charity.

We look at this in more detail in our article on using copyrighted images in making artist trading cards.

David Adams