Wiv' me dress tucked in me knickers
Margaret Field
(United Kingdom)

This one was made quite early on in my making of artist trading cards, but is still a firm favourite of mine. It was done for a challenge to make an ATC in black and white.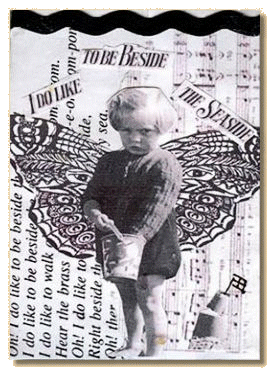 Wiv' me dress tucked in me knickers
The photograph is of me as a child, on a family holiday, and still makes me smile at the size of my knickers. Were they big in those days just for tucking dresses into?
The background is made up of the musical score for '
I Do Like To Be Beside The Seaside
', as well as the words of the song.
-----o-----
Thank you, Margaret, for sharing one of your favourite artist trading cards with us. I'm sure that we all remember those carefree 'bucket and spade' days!

David Adams