How to make
Canvas Artist Trading Cards
Do you want to make canvas artist trading cards?
If you've read our description of how to make artist trading cards (ATCs), or have some experience of making them, you'll know about the techniques that are used. Although you can still use most of the same techniques when you make canvas artist trading cards, some have to be adapted slightly because of the rougher texture of the canvas.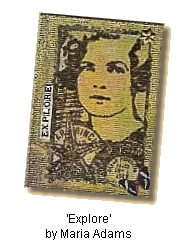 It's best to use canvas primed with gesso, which accepts paint and inks easily.
You can obtain sheets or pads of unmounted prepared canvas at art supply shops, or perhaps multiple stationers, which often carry stocks of art materials these days. You may also be able to obtain canvas ready-mounted on board. None of these materials will fray when cut to size.
When you are mounting your canvas on board (the aptly-named mount board is very suitable for this purpose), you can use glue or double-sided sticky tape. You may like to turn over about ¼" at the edges, but you don't have to, because, as we have mentioned, the canvas doesn't fray. If you do decide to turn over the edges you should bevel the corners of your canvas, and you may need to reduce the dimensions of the board slightly to maintain the standard artist trading card size of 2½ x 3½ inches (64 x 89 mm) when finished.
Using canvas is a good way to add texture to your artist trading cards, but you may have to adapt your techniques. For example, when using rubber stamps either you will have either to accept that your images may not be perfect, or you will have to stamp them on tissue and stick this to your card with decoupage glue, which dries clear. This gives the impression that the images have been stamped directly onto the canvas.
You can also stamp using acrylic paint, which gives an image that is better, but not so sharp. In this case it is better to use stamps that are bolder and less detailed.
Of course, you could always paint on your canvas in the conventional way, using oils or acrylics. In a way this goes back to the original purpose of artist trading cards, which was to showcase artists' work in miniature. You can often find these cards offered for sale on auction websites, and described as artist cards editions and originals (ACEOs).