Altered Art Techniques: Rubber Stamps
You're standing in your local craft store, faced with a massive display of rubber stamps. What are all the different types, and which stamp should you choose?
Whilst we may not be able to answer the second part of that question for you, we can certainly give you all the information that you'll need to help you to make the right choice.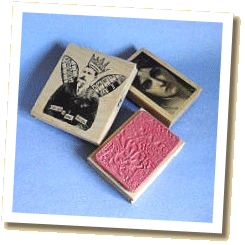 Traditionally, a good quality rubber stamp consisted of a latex die mounted on a hardwood block, usually of white maple, with a foam cushion in between to ensure an even impression.
Now, however, manufacturers are offering a bewildering range of choices with wood-mounted, foam-mounted, acrylic-mounted and unmounted stamps, and you'll also see a widespread use of clear polymer as an alternative to the traditional rubber latex.
So what should you look for?
Choose deeply-etched dies that will produce clear images: the deeper the etching, the better the quality. A more deeply-etched die will not only reduce the risk of getting stray ink marks on your work, but will also give better results when used with techniques that involve stamping into materials like UTEE (ultra-thick embossing enamel), or onto those like fabric and canvas.
Look too for well-trimmed dies: cut close, but not too close, to the actual image, which will also help to prevent those stray ink marks from ruining your precious artwork.
Wood-mounted stamps
For many years wood-mounted rubber stamps were the only type available, and probably still offer the best quality.
You'll usually find on the opposite side of the hardwood mount a black stamped or printed image, or a transparent sticker with a black or coloured image, that shows the design for easy recognition of the stamp. This image is known as the index.
Whilst those pretty coloured pictures may give you a good idea of what your work will look like when stamped and coloured with paints, pencils or inks, I prefer to see exactly how the basic image will appear without any decoration. Fortunately the majority of wood-mounted stamps suitable for serious work in altered and mixed-media art seem to have plain black indexes, usually stamped or printed.
A wood mount offers a good surface to hold for cleaner, more precise stamping. Whilst of course not confined to this particular method of mounting, another advantage is that the rubber latex dies are extremely durable.
The obvious disadvantage is that you can't see exactly where you're placing your stamped image. Also, because the manufacturing process requires a considerable amount of manual labour, these stamps are relatively expensive.
Foam-mounted stamps
Foam-mounted stamps are often sold in themed collections or kits, and are less expensive than wood-mounted stamps. In this case the rubber stamp surface is mounted directly on a foam backing, which is sturdier than the foam used with a wooden mount, but still provides the necessary cushioning to ensure a even impression.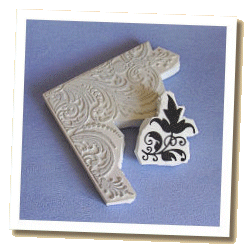 In our experience there is little or no difference in quality between the rubber dies used for these and those used for wood-mounted stamps. You should again expect to see a plain black index on the reverse of the stamp.
These are a good choice for beginners or themed projects, and their light weight makes them ideal for artists who have arthritis or other problems with their hands.
Acrylic-mounted stamps
As far as we know, no rubber stamps are commercially available mounted on clear acrylic blocks, although the blocks themselves are becoming more widely available in a variety of sizes from specialist shops and craft stores.
Although they offer perhaps a slightly less sure grip than a wood mount, they have the clear advantage (!) of allowing you to see almost exactly where you're placing your stamped image, an advantage increased if you're using a clear polymer stamp. This obviously allows a more accurate placement, and the easy alignment of multiple images.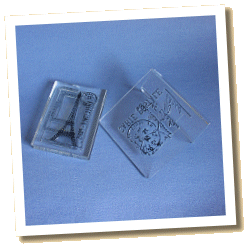 It may be worth mentioning here the unique clear acrylic handles on which most Clarity Stamps are mounted. You may find these easier to grip, and we believe that these give an even more accurate and smudge-free placement than a block, not least because your view of the image is less likely to be obscured by your hand as you stamp.
Our picture shows two clear polymer stamps, one mounted on an acrylic block, the other on a clear acrylic handle from Clarity Stamp.
As we've mentioned, mounting rubber stamps on wood is a fairly labour-intensive process, and some manufacturers prefer to sell their stamps unmounted. This practice offers a number of advantages to the artist: they are cheaper, take up less room when stored, and are lighter and therefore less expensive to obtain by mail order.
You may be able to obtain your unmounted stamps trimmed and ready for use, or you may have to cut them yourself from a complete sheet. Selling them in this form allows the manufacturer to offer an even lower price per image than for individual unmounted stamps.
Almost all clear polymer stamps are available unmounted, the notable exceptions being those produced by Clarity Stamp, most of whose stamps are supplied mounted on their unique acrylic handle.
We'll be looking at various ways of mounting your unmounted stamps in our article on general rubber stamping tips and techniques.
Clear polymer stamps
Clear polymer stamps were pioneered by Clarity Stamp in the early 1990s, and certainly their stamps are 'easily identified by the clever patented handle', as company owner Barbara Gray puts it. I make no apology for mentioning this company several times as an innovator in this field.
That said, many manufacturers now produce clear unmounted stamps, and they are widely available, for the most part in themed sets.
When mounted on clear acrylic blocks they offer the obvious advantage of allowing you to see exactly where you are placing your stamped image. However, we believe that they are less durable than the traditional rubber latex dies.
You'll sometimes see clear polymer stamps described, inaccurately of course, as clear rubber stamps.
What kind of image should I choose?
Even without considering the subjects represented, we can identify several different types of image:
Outline images: good for embossing and colouring with any medium.
Solid images: these stamps may be used with water-based markers for multi-coloured effects.
Finely detailed images: elaborate line drawings with lots of cross-hatching, stippling etc. Some may be of photo quality. These lend themselves well to colouring with pencils or watercolours, and collage work. They can be used with fine or detail embossing powder.
I've already mentioned the importance of choosing deeply-etched dies when stamping into materials like UTEE, or onto those like fabric and canvas. It's also best to use simple outline or solid images in these cases.
Which images are best suited to altered art?
There are fads and fashions in altered and mixed-media art as much as anywhere else, but there are a number of themes that always seem to be popular in this genre:
Distressed backgrounds
Doors and door furniture
Ephemera
Facial features
Letters and numbers
Mail
Mechanical devices
Natural world: birds, insects and fish
People and animals with crowns or hats
People and things with wings
Script and printed texts
Scrolls and embellishments
Time: clocks and watches
Travel
Vintage portraits and images
Several of these themes might be considered to fall under the general description of 'steampunk', which appears to be so popular at the moment in art, literature and pop culture.
After a while you'll come to recognise the styles and images that will give your work the 'altered art look' that everyone seems to be aiming for.
Which brands should I choose?
Because tastes and opinions differ, it's hard to be definite about which stamp brands are and which brands aren't suitable for serious work in altered and mixed-media art. However, after an extensive survey of all those that are currently available, we've come up with a couple of lists which we hope will be helpful to our visitors.
These manufacturers and designers specialise in, or have ranges that contain a substantial number of, images whose subject matter and style make them particularly suitable for use in altered art projects:
7 Gypsies
AALL & Create
Catslife Press
Chapel Road Artstamps
Character Constructions
Cherry Pie
Chocolate Baroque
Christine Adolph
Clearly Impressed
Crafty Individuals
Darkroom Door
Donna Salazar
Finnabair
Heidi Swapp
Home Impressions
Imagination
IndigoBlu
Invoke Art
Julia Andrus
Karantha Stamps
Maya Road
Oxford Impressions
PaperArtsy
Paperbag Studios
Paper Relics
Stampers Anonymous (including Tim Holtz)
Stampington & Company
Studio 490 by Wendy Vecchi
Technique Tuesday
TJ Designs
Tuscan Rose
These manufacturers produce rubber stamps in a wider variety of styles, some of which (perhaps surprisingly in some cases) we believe would also be suitable for the purpose:
Anna Griffin
Artemio
Autumn Leaves
Basic Grey
Butterfly Kisses
ChatterBox
Clarity Stamp
Clear Art Stamps
Creative Expressions
Deep Red Stamps
Fancy Pants Designs
Fiskars
Hampton Art
Hero Arts
Impression Obsession
Inkadinkado
Inkylicious
Kaisercraft
La Blanche
Lavinia Stamps
Lili of the Valley
Making Memories
Marianne
Penny Black
Prima Marketing Inc.
Sheena by Sheena Douglass
Stampin' Up
Stampotique Originals
Tattered Angels
The Artistic Stamper
The Girls' Paperie
Visible Image
Waltzingmouse Stamps
We don't claim that either of our lists is complete. You will also find that some of the brands that we have mentioned do include others that we have listed separately.
Read more about rubber stamping inks…