How to make Artist Trading Cards
Do you want to make artist trading cards (ATCs), but you're not sure where to start? We'll show you how, and you'll soon be creating and trading these masterpieces in miniature.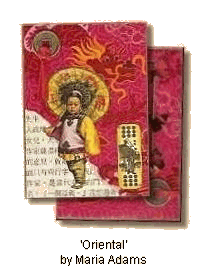 The basics...
You'll need a piece of suitable material, 2½ by 3½ inches (64 mm x 89 mm) in size. It may be in either portrait or landscape orientation, and the corners can be either rounded or unrounded; it's purely a matter of personal preference. It's usual to use cardstock, but other possibilities include fabric, canvas, leather, acetate, metal and cork sheet. You could even use playing cards, if they are the right size.
Whatever you use has to be fairly flat; although artist trading cards may include three-dimensional elements like buttons and charms, most swap groups insist that they are thin enough to fit in a standard trading card sleeve. It also needs to have a certain stiffness, so you might have to back fabric or canvas, for example, with card or pelmet interfacing.
When you make artist trading cards, the starting point is the background.
Backgrounds...
Keep a lookout around you for sources of card with interesting patterns and textures; a chocolate box in stiff cardboard and an 'Oriental takeaway menu' from a local supermarket have both provided interesting backgrounds ready for embellishment. Look out, too, at your local DIY store for paint colour charts, or wallpaper and border samples that inspire you.
Another readily available source for backgrounds is the wealth of designer papers intended for scrapbooking. These can be found in a wide variety of colours and designs to suit every subject. Look out for interesting textures and effects like old wood and distressed paintwork, or old manuscripts, books, music and maps. Alternatively, if you find old magazines, newspapers and books that nobody wants, why not use the real thing? You can cover the whole card with one piece, or with several different pieces torn into strips or mosaic shapes.
You may also find pictures in magazines and travel brochures which would make ideal backgrounds for your theme. The important thing is that the image should complement, and not compete with, your main subject.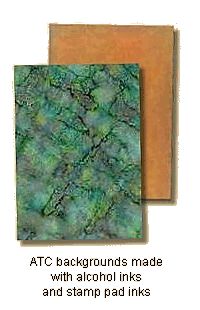 Many of those who make artist trading cards prefer to create their own backgrounds using paint, colour washes, chalks or inks.
Alcohol inks are particularly suitable for glossy surfaces, and can be used with blending solution to dilute, soften and merge the colours. This technique is often used to give the appearance of what is sometimes described as 'polished stone'.
Brush, sponge, daub, spray or drip your chosen medium onto the card, and try blending different colours. You can produce different effects depending on whether you leave it to dry naturally or use a heat gun, which can cause streaks of colour to run across the card and into each other.
You could also try dabbing chalks or inks onto background papers to give a vintage or distressed appearance.
Another great way to create backgrounds is with rubber stamps. Combine stamped images with other techniques by, for example, using a repeated motif or a stamp specially designed for the purpose. These include collaged images and textures, like crackled paintwork or various fabrics. You can also apply ink from a stamp pad using a rubber roller, or brayer, to produce different effects, or use your ink pad to apply colour directly to your surface with a dabbing or rubbing motion.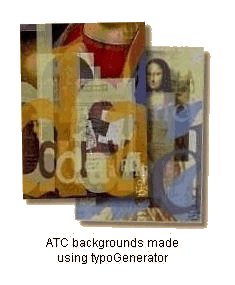 With modern technology there are now even more ways to make your background. Using your computer, perhaps a digital camera, and any one of a number of graphics packages, you can create and manipulate images for both your backgrounds and the foreground elements that we'll be talking about in the next part of our look at how to make artist trading cards.
Some time ago we discovered a website designed to produce background images, some of which were suitable for artist trading cards. The typoGenerator allowed you to create random images based on a specified theme. Sometimes it seemed to take a while to create an image, and the results were often unpredictable. Unfortunately this site, created as a student project in 2004, appears to be no longer in operation.
Want to know more?
We continue our look at how to make artist trading cards with themes, focal points and embellishments...