Altered Art Techniques: Rubber Stamping Inks
Now that you've chosen your rubber stamps, you'll need to know which rubber stamping inks are most suitable for those altered art techniques that we'll be looking at in more detail later. We'll also have some more general advice that we hope will prove useful in your other stamping projects.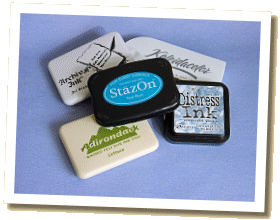 Although there are many different rubber stamp pads on the market today, almost all inks used in rubber stamping fall into one of two categories: dye-based inks and pigment-based inks, which include the more recently introduced chalk inks.
You'll find a number of what might be described as specialised rubber stamping inks, amongst which we'd include embossing inks.
Much of what you read about rubber stamping inks is confusing, and may even seem contradictory at times. The fact is that how different types of ink behave may depend on what kind of material you're stamping on. For example, some pigment-based inks won't dry on glossy surfaces, but will soak into something rather more absorbent, like a watercolour paper, and dry almost immediately.
Dye-based inks are transparent, dry quickly, and are particularly suitable for use on glossy cardstock. Most of them are water-based, so unless they are described as waterproof contact with water will probably cause them to bleed and run. You may be able to use this tendency to produce a softer effect with a dampened brush, or by misting your image with water.
Again, unless your dye-based ink is described as permanent it will probably not be light-fast, and the colour will fade over time.
You'll find that rubber stamp pads containing dye-based inks are normally made from hard felt.
Two water-based dye inks that we would recommend are Adirondack by Ranger, and Memento, which is both waterproof and fade-resistant. Both of these are acid-free.
We should mention here Kaleidacolor and Big 'n' Juicy, which are 'rainbow' pads containing five different strips of colour, and particularly suitable for making multi-coloured backgrounds using a brayer. Both are acid-free, and available in a range of colour combinations.
What distinguishes the two is that whilst the colours in the Big 'n' Juicy pad will blend together, the Kaleidacolor pad features a clever mechanism that keeps the colours separate during storage, but brings them together for use.
Some other dye-based inks that we would particularly recommend are the Tim Holtz Distress Inks from Ranger. These too are acid-free and fade-resistant. They are slower to dry than most rubber stamping inks of this type, and therefore more suitable for embossing.
The Tim Holtz Distress Embossing Powders have been specially formulated for use with these inks to give the worn and weathered look that you need for your altered art projects. The colours of the inks, too, have been chosen to create those vintage, stained and aged effects that are so popular in this genre.
Archival from Ranger and Ancient Page from Clearsnap are both acid-free, fade-resistant and water-resistant. This means that they are suitable for water colouring, and for archival projects like scrapbooking.
All of the inks that we have mentioned so far are suitable for use on paper, cardstock (both glossy and matte), and Stampbord. We wouldn't recommend them for fabric, or non-porous materials like acetate, glass or metal, on which they tend to form beads.
For this type of material we'd recommend the solvent-based ink StazOn, which can be used successfully on most coated and non-coated surfaces, including plastics, metal, glass, ceramics, laminated paper, coated paper and leather. We've also used it with success on fabric.
As you'd expect, this ink is acid-free, waterproof and fade-resistant.
Pigment-based inks have a thick and creamy consistency, and dry to an opaque finish. In general they take a while to dry, which makes them ideal for embossing, and for direct-to-paper techniques that involve blending the inks on the surface of your paper.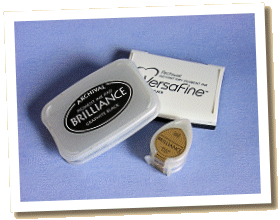 Rubber stamping inks in white, metallic and pearlescent colours are always pigment-based. This type of ink is normally available in a soft, spongy stamp pad, rather than the hard felt ones used for dye-based inks.
These inks are acid-free, fade-resistant, and clean up with water. Most of them aren't waterproof, although Versafine is, and so is Brilliance when heat-set. Versafine is unusual in being an oil-based ink, which means that once dry you can use watercolour without risk of its bleeding.
Pigment-based inks are suitable for use on matte and absorbent cardstock, but not in general on shiny surfaces like glossy cardstock, vellum and acetate. The exception here is Brilliance, which can be used not only on these surfaces, but also on polymer clay and shrink plastic.
One unusual use for pigment-based inks is to coat your rubber stamp so that it doesn't stick when you want to create an intaglio (or sunken) effect on hot UTEE, Friendly Plastic® or even shrink plastic.
Some other inks of this type that we would recommend are
VersaColor
,
ColorBox
,
Adirondack
pigment-based and
Encore Ultimate Metallic
.
A relatively recent introduction, chalk inks combine the rich colour and resilience of pigment-based inks with the quick-drying and blending qualities of dye-based inks on most absorbent surfaces.
Although some will dry on just about any surface, chalk inks may not dry well on glossy or coated cardstock. This means that they can be used for embossing on glossy surfaces, and they will be permanent when heat-set. However, even when left to dry naturally they are resistant to smearing, bleeding and fading.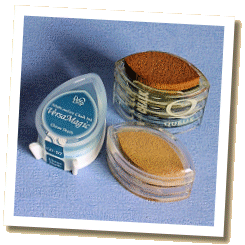 As their name suggests, these inks dry to a soft and muted chalk-like finish. Their chalky quality allows you to layer your colours, something that's not possible with other more transparent inks, and lighter-coloured inks can be used successfully on darker-coloured surfaces.
Two examples are VersaMagic and ColorBox Fluid Chalk inkpads, easily recognisable by their unusual 'tear-drop' and 'cat's-eye' shapes that give you precise control when inking your stamp, and for direct-to-paper techniques.
Apart from rubber stamp pads specially designed for embossing, which we'll look at shortly, there's one specialised rubber stamping ink that we found interesting. It's called Castaway, and produces a sort of faux batik effect on most coloured papers when heated.
This technique will work on most papers, but not on coated stock, or on pigment-coloured papers like laminated mat board, and works best with bold 'solid' images. The result is a mottled antiqued look similar to batik fabric.
You simply stamp your image as usual on coloured paper, then wait about five minutes for the ink to be absorbed. The image is clear until heated with a dry iron on the cotton setting, or a heat tool, when the colour will be taken away as though it had been stamped with bleach, but without the usual mess and odour.
In general pigment-based inks are better for embossing, because they dry more slowly. However, it is possible to use some dye-based inks, particularly on glossy surfaces, if the ink remains wet for long enough.
When embossing using dye-based rubber stamping inks it's important to use a tool that supplies heat without excessive blow, or to heat your work from below, to avoid blowing the embossing powder off your image before it's set.
There are a number of slow-drying clear inks specifically designed for embossing. They are colourless, or perhaps very slightly pink or blue, so that you can see your stamped image. Two examples are VersaMark, also often used to create a 'watermarked' effect, and Tim Holtz Distress Clear Embossing Ink, which has been specially developed to give that 'vintage' worn and weathered look when embossed.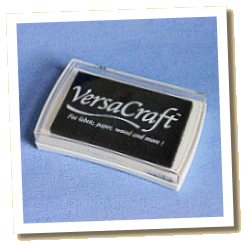 Our discussion of rubber stamping inks wouldn't be complete without a quick look at craft inks. Most inks are suitable for use on paper and cardstock (matte, glossy or both), and a small number for a few more unusual surfaces, but only one that we've looked at so far for materials like fabric, wood, ceramics and leather.
Because they're heat-set, you can also use craft inks with shrink plastic. You need to pre-wash fabric to remove any finish, and iron it after stamping to fix the image. Two examples of this type of rubber stamping ink are Crafter's from Clearsnap, and VersaCraft.