Woven
Steph Lindsay
(California, United States of America)

This was made for the first artist trading card swap that I ever joined, 'Textured with Metal Element' at ATCs For All. I get the urge to weave sometimes, and it was so much fun to make a tiny loom!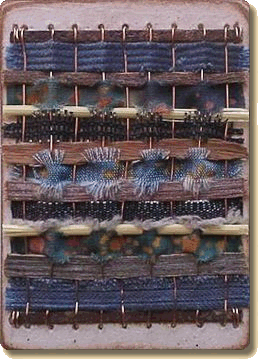 A tiny loom on an ATC
I put ground metal strips at the top and bottom, so the copper wire warp would not tear the card. I wove in torn fabric strips and oat straw. The card edges were sanded with sandpaper that I had used to remove rust from metal... it gave a nice effect.
-----o-----
Thank you, Steph, for sharing one of your favourite artist trading cards with us.

It's certainly one of the most unusual examples that I've come across, and demonstrates just what is possible even in this small size.
-----o-----
Other visitors who want to make artist trading cards that are a little bit different from the usual may be interested in our article "And now for something completely different…".

ATCs For All is one of the ATC swap groups that have been recommended by several of our visitors. It describes itself as focussing on 'friendly ATC trading and swapping in a relaxed and welcoming atmosphere', whilst one of those visitors tells us that it's a 'fabulous site, easy to use'.

David Adams